PANAHON UPDATE on
Tropical Depression JUANING/10W
as of 25 July 2011 @ 5:24pm Ph Time
Tropical Depression JUANING/10W moved northwest at 16 kph towards Northern Cagayan and Batanes. As of 2pm today, it is about 270 km east of Virac, Catanduanes or 375 km east of Naga City/CWC. Wind gusts reaches 75 kph.
By 2am tomorrow, the system shall be about 160 km ENE of Bagamanoc, Catanduanes. Wind gusts shall intensify to 85 kph.
By 2pm tomorrow, 10W is forecast to be some 270 km ESE of Casiguran, Aurora. By this time, wind gusts shall intensify further to 90 kph.
4-Day TROPICAL DEPRESSION JUANING(10W)
Forecast Positions & Strength
AREAS HAVING PUBLIC STORM SIGNAL WARNING
SIGNAL NO. 4
(above 185 kph winds)

SIGNAL NO. 3
(100 to 185 kph winds)

SIGNAL NO. 2
(60 - 100 kph winds)

SIGNAL NO. 1
(from 45 - 60 kph winds)

NONE
NONE
NONE
Catanduanes
Sorsogon
Albay
Camarines Provinces

FORECAST ANALYSIS AND EFFECTS
Tropical Depression JUANING continues to consolidate further. Its rainbands are covering the entire Southern and Southwestern Luzon, Visayas and Northern Mindanao. Rains continue to pour down and the weather is expected to deteriorate in the coming hours as the system glides to the northeast of Bicol along the East Philippine Sea.
10W shall intensify into a Tropical Storm and move NW for the next 2 days over water before crossing Northern Cagayan in the afternoon of 28 July. Upon landfall, the system shall cross over Bolos Point in Cagayan and into the vicinity of Gonzaga and passing close to Appari (about 20 km). It shall then exit Cagayan via Babuyan Channel moving into Barit and Mabaag Islands in Batanes through the night.
By the afternoon of 29 July, it shall be ready to exit the Philippine Area of Responsibility and would start to threaten Southeastern China. 10W shall continue to move WNW making landfall in Guandong some 95 km to the east of Hongkong in the evening of 29 July. Rapid dissipation is expected afterwards.
Despite being spared from a possible landfall, Bicol, Visayas, Mindanao and the rest of Western and Central Luzon shall experience deteriorating weather this week due to the enhancement of the southwest moonsoon made possible by 10W. This moonsoon might cause landslides and flashfloods in the area. Coastal waters in Bicol shall be moderate to rough. Please note that the storm's forward motion could still change due to varying elements. Hence, we shall be keeping a close watch as 10W progresses.
ALTERNATE Forecast
ECMWF shows a more westerly track bringing 10w to Central Luzon over Isabela, Kalinga, Abra, Apayao and Ilocos. Watch out for more updates on this scenario.
LPA Alert:
LPA 94W WSW of Chuuk is now the subject of a Tropical Cyclone Formation Alert by JTWC. Watch out for this next significant Tropical Cyclone.
Quick Outlook in the Philippines Today
Luzon: FAIR in North/Central Luzon, RAINY in NCR, Bicol and Palawan
Visayas: RAINY
Mindanao: RAINY
===
♦♦♦ LATEST TRACKING MAP OF 10W ♦♦♦
===
♦♦♦ WESTERN PACIFIC SATELLITE IMAGE (approx. 3 hrs.ago) ♦♦♦
Click here for the Latest HI-RES Satellite Image
Click here for the Latest Flash Satellite Video
===
♦♦♦ LATEST WESTERN PACIFIC RAIN RATE ♦♦♦
===
♦♦♦ LATEST WESTERN PACIFIC SURFACE WIND ♦♦♦
===
♦♦♦ LATEST PHILIPPINE WATER WAVE HEIGHT AND DIRECTION ♦♦♦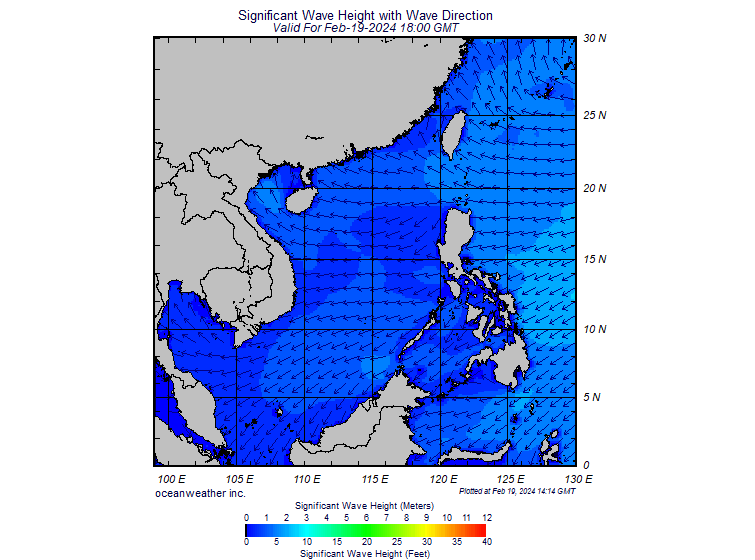 ===
♦♦♦ LATEST WESTERN PACIFIC WAVE HEIGHT AND DIRECTION ♦♦♦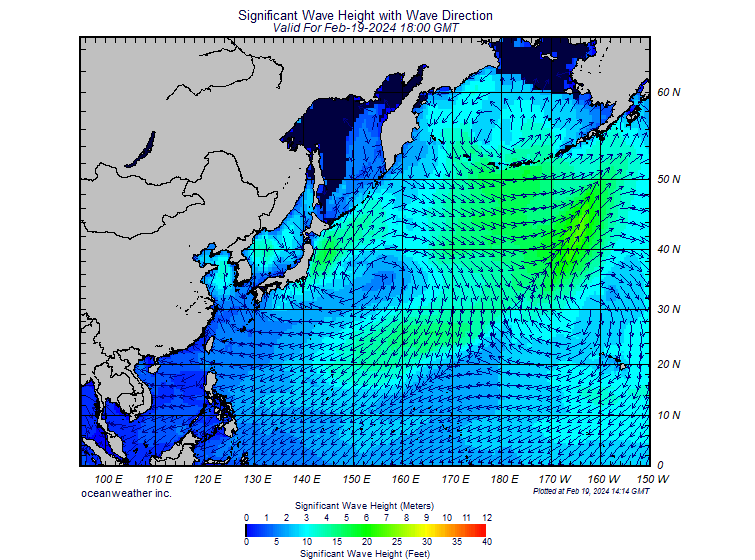 ===
♦♦♦ LATEST WESTERN PACIFIC SEA SURFACE TEMPERATURE ♦♦♦
•••
•••