PANAHON UPDATE on
Tropical Storm JUANING/10W/NOCK-TEN
as of 27 July 2011 @ 5:14pm Ph Time
TYPHOON JUANING/10W/NOCK-TEN weakened upon land interaction today and was downgraded back to Tropical Storm strength. The system is now brushing Central Luzon over Nueva Vizcaya and shall move into Benguet and La Union provinces tonight. At 2pm today, it is about 25 km ESE of Kasibu, Nueva Vizcaya or 100 km ESE of Baguio City moving NW at 14 kph. Wind gusts down to 130 kph.
At 2am tomorrow, it shall be over the West Philippine Sea about 140 km WNW of San Fernando, La Union. Wind gusts weakens to 120 kph.
4-Day TROPICAL STORM JUANING/10W/NOCK-TEN
Forecast Positions & Strength
AREAS HAVING PUBLIC STORM SIGNAL WARNING
SIGNAL NO. 4
(above 185 kph winds)

SIGNAL NO. 3
(100 to 185 kph winds)

SIGNAL NO. 2
(60 - 100 kph winds)

SIGNAL NO. 1
(from 45 - 60 kph winds)

NONE
NONE
Ilocos Norte
Abra
Kalinga
Isabela
Ilocos Sur
Mt. Province
Ifugao
La Union
Benguet
Nueva Viscaya
Quirino
Aurora
Apayao
Cagayan
Pangasinan
Nueva Ecija
Northern Quezon
Zambales
Pampanga
Tarlac
Bulacan
Bataan
Rizal
Metro Manila
FORECAST ANALYSIS AND EFFECTS
Tropical Storm JUANING has just passed over Aurora and is now traversing Nueva Vizcaya passing very close to Kasibu and Bayombong before moving into Benguet just north of Baguio City and finally reaching La Union passing very close to the north of San Fernando City. JUANING shall exit into the West Philippine Sea early in the morning tomorrow (around 2am).
JUANING shall be out of the Philippine Area of Responsibility in the afternoon of 28 July. It shall continue moving WNW towards Northern Hainan Province by 29 July where it shall regain Typhoon Category prior to landfall and before moving into the Gulf of Tonkin. The extended track takes JUANING into Laos by 01 August where its shall dissipate.
JUANING's small ragged eye has disappeared but its convection remained tight even over Luzon. Thick rainclouds continue to cover Northern, Central and Southwestern Luzon with its outer bands reaching Bicol and Visayas. There has been some thinning in the outerbands that is covering Bicol indicating that an improved weather condition is being experienced in the area. Southwest Moonsoon is being experienced in Mindanao. Coastal waters in Bicol and the rest of Eastern and Western Luzon shall be moderate to rough. Please note that the storm's forward motion could still change due to varying elements.
Quick Outlook in the Philippines Today
Luzon: RAINY becoming STORMY in Central Luzon
Visayas: FAIR to RAINY
Mindanao: FAIR to RAINY
===
♦♦♦ LATEST TRACKING MAP OF JUANING/10W/NOCK-TEN ♦♦♦
♦♦♦ FORECAST MODELS FOCUS: 10W/NOCK-TEN (JUANING) ♦♦♦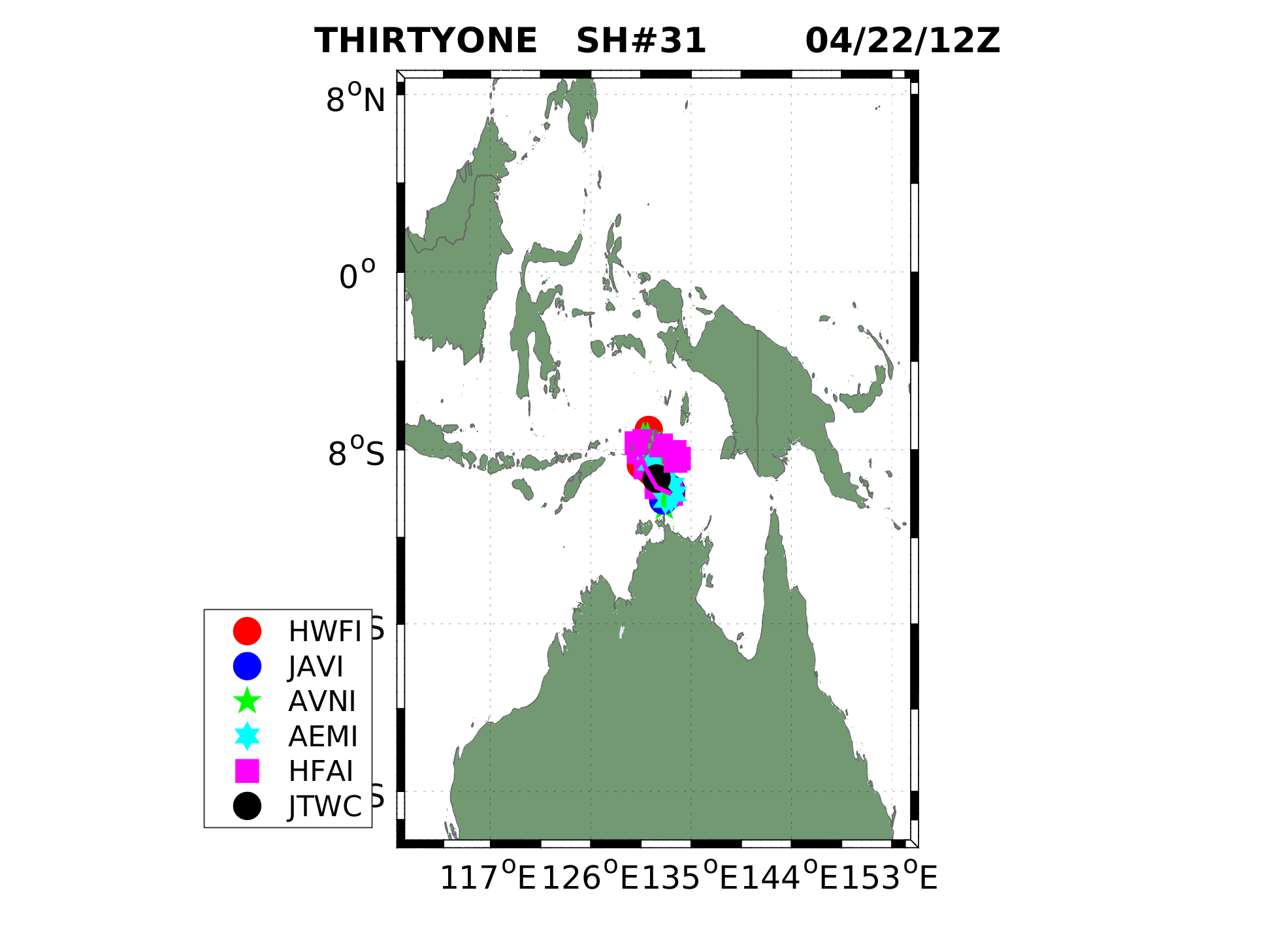 ===============================================================
PANAHON UPDATE on
Tropical Depression 11W
as of 27 July 2011 @ 5:27am Ph Time
Tropical Depression 11W is now about 530 km WSW of Guam with wind gusts of 75 kph. 11W is moving WNW at 22 kph towards the Western Pacific Ocean. Initial forecast shows that the system shall move NW to northward just over the vicinity of the Philippine Area of Responsibility passing thosands of kilometers to the west of Guam. The system shall intensify with wind gusts of 165 kph later in the forecast.
Right now, this disturbance is not a threat to the Philippines.
♦♦♦ LATEST TRACKING MAP OF 11W ♦♦♦
===
LPA Alert:
LPA 95W located SE of Guam. We'll keep an eye on this disturbance for possible development.
===
♦♦♦ WESTERN PACIFIC SATELLITE IMAGE (approx. 3 hrs.ago) ♦♦♦
Click here for the Latest HI-RES Satellite Image
Click here for the Latest Flash Satellite Video
===
♦♦♦ LATEST WESTERN PACIFIC RAIN RATE ♦♦♦
===
♦♦♦ LATEST WESTERN PACIFIC SURFACE WIND ♦♦♦
===
♦♦♦ LATEST PHILIPPINE WATER WAVE HEIGHT AND DIRECTION ♦♦♦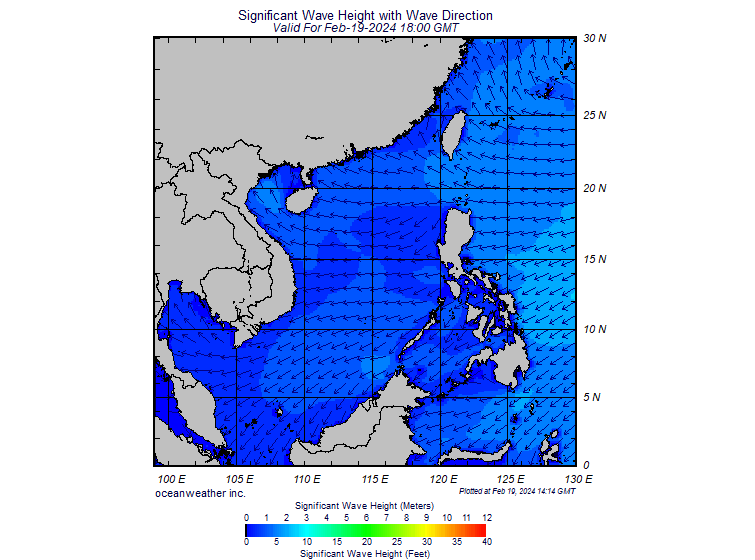 ===
♦♦♦ LATEST WESTERN PACIFIC WAVE HEIGHT AND DIRECTION ♦♦♦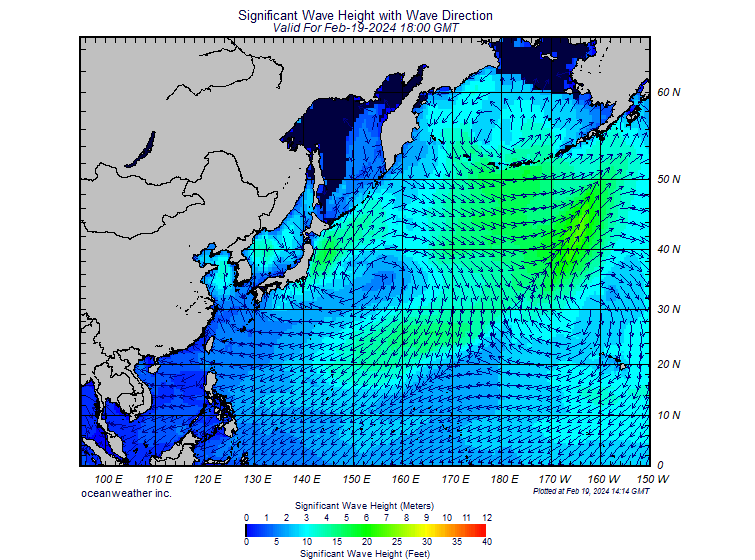 ===
♦♦♦ LATEST WESTERN PACIFIC SEA SURFACE TEMPERATURE ♦♦♦
•••
•••